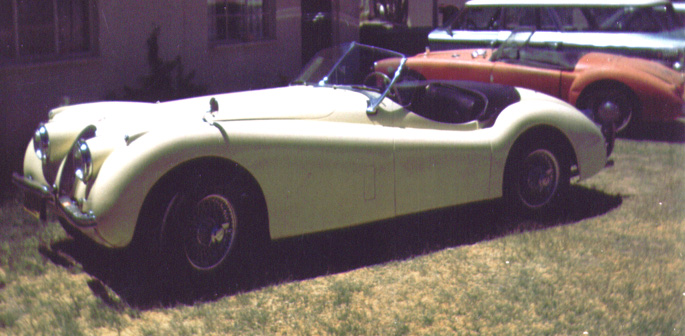 The first car I ever purchase on my own was a 1956 MGA roadster. It wasn't much to look at (the one in the picture on the left is not mine...mine is the one in the background in the picture on the right), and it wasn't too powerful, but it was a sports car and it got me around. I loved wind in the face, noisy, leaky when it rained, British sports cars. I drove it for a couple of years...sometimes (okay frequently) removing the rear inspection panel while driving so I could whack the electric fuel pump gently with the handle of a screwdriver (which I kept in the car just for that purpose). I finally fixed the fuel pump with a kit I think I spend $4 for.
The second car I ever purchased was my favorite car of all time...so far (I'm still holding out for the 250GTO Ferrari). When I was about 24 I bought an XK-120 Jaguar roadster. It was a hoot to drive. Read more about it by clicking on the picture to the left.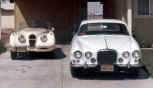 While I still owned the XK-120 I bought a 1963 MK-10 Jaguar. It was one of the big saloons, and pretty sophisticated for it's time with independent rear suspension and disk brakes all around. White with red leather, and fold down picnic tables in the back (with vanity mirrors) it was quite the nice car to drive and ride in.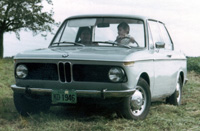 The Air Force sent me to Germany in 1974 and I bought a 1970 BMW 2002 while there. It was a great little car, and fun to drive. But my dream was to take a Porsche back to the US with me. However, that was not to be because I was going back to college...and I was poor as dirt.
The demands of school and family kept interesting cars out of my life for quite a while. I did at one point purchase a 1971 Series 1 Jaguar XJ-6. It mostly sat in the carport for several years while I tinkered with it - finally replacing the engine with the help of my son Jeff.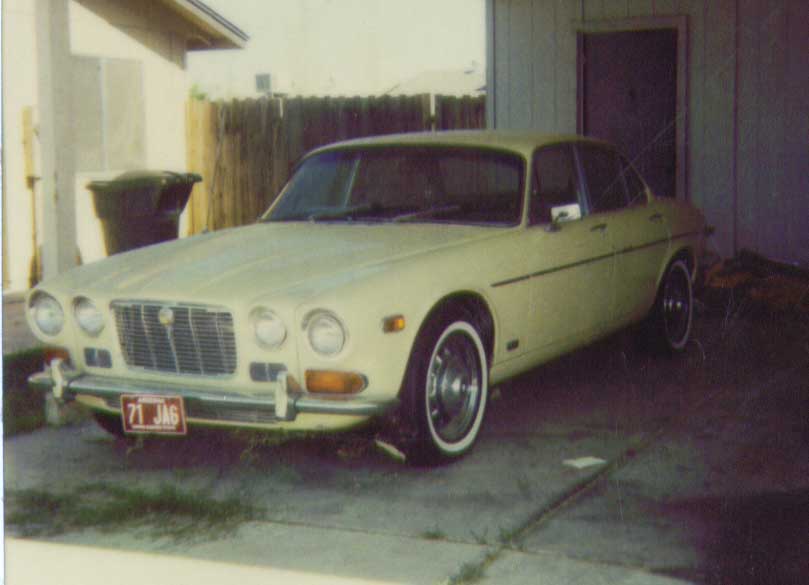 Skipping ahead a few years Jeff and I headed to Tucson to buy a 1970 Porsche 911 Targa. It wasn't much...but it was all I could afford. Someone had converted it to a 912 engine, but we bought a spare 2.0 liter with the hopes of replacing it. We did a lot of tinkering and some restoration of door panels and the like (Jeff did a great job on the door panels), but my house caught on fire and we lost most of the things we had worked on. The car was later sold to make room for the new house construction.
I had a 1994 Mitsubishi 3000 GT for a couple of years. It was nice...I loved how it looked. It was very comfortable on the road, but it was no Porsche when it came to sport car handling and feel. First of all I could never sense where the tires are; in a Porsche you always know where the rubber meets the road. I needed a PORSCHE!
On Saturday October 22, 2005 my son Jeff and I went down to 32nd Street and Van Buren in Phoenix to take a look at a 1979 Porsche 911 SC that had been listed on eBay but had not been sold. It looked pretty good. The original paint was in fair condition, but looked nice from a few feet away. The interior was very nice, and the whole care seemed solid. Read about the current Porsche project at www.AZPorsche911.com.

I purchase my 1965 Jaguar 3.8 S on February 9, 2009. I live in Goodyear, Arizona and the car was located in Cottonwood, Arizona...so after renting a U-Haul trailer we made the several hour trek up north on one of the coldest wettest days of the year. It was worth it. Read about the current Jaguar 3.8S project at www.jaguarsaloon.com.