When I was about 24 I read an ad for a 1954 XK-120 Jaguar roadster in the Tucson Citizen. They wanted $399 for it! I was the first one there the next morning...even before the employees. The big metallic blue roadster (it was originally "apple green") was a sight to see in that fenced yard. It had been purchased by an

auto-parts and repair shop, but (god bless them) they thought it was too good to tear down for parts. It had a few issues...it needed some trim pieces here and there (a grill, bumpers, and the windshield was a mess), but it was a solid car...and I could drive it home! I loved it!
The car needed lots of parts and I had a limited budget (I was in the Air Force at the time). I began the search reading every national publication I could find. It became very discouraging...I was beginning to think I'd never be able to get the parts I needed....until one day I spotted an ad for a complete parts car in an auto magazine....and it was right there in Tucson. I looked up the guy and he still had the car and hadn't sold a part. When I got there I realized it had all the parts I needed and then some (like a set of chrome wire wheels from an E-type Jag). He was tired of trying to sell the parts from the car and offered it to me for about $100. I hauled it home that evening.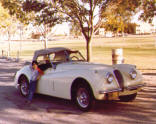 I had the car painted not long after that; The Painter couldn't find Ferrari "Man-o-War Yellow" so he substituted Buick "Sissy Girl Yellow" or something like that. I told him he never should have told me! I drove and enjoyed that sweet roadster for 14 years after that. I reluctantly sold it when Diana was about 12...and Jeff was just about 6 (he still dreams of getting a car just like it).